Cochin Bantam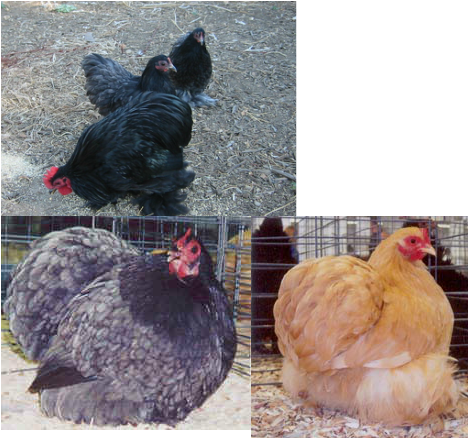 I love their furry little feet, the small but protective stature of the Roosters and the great brooding tendancy's. I have Black, Blue, Buff, White and some mixed white americana cochin bantams. If I had to pick 1 breed, it would have to be these cute little guys. The only downfall they have is their little eggs to match their size. I raise other breeds for big colored eggs and production, but they only stay if they can be held by my kids :).
I still miss my original Black Cochin Bantam Rooster Blackie Scratch. He was such a good leader and no one has really taken his place. At one point a full sized Barred Rock Rooster attacked my 5 year old. Off to the feed store he went! I have neved had a problem with my Cochin Bantam Roosters, note to self offload the hatched roosters which are not full cochin bantam.
---
Rhode Island Red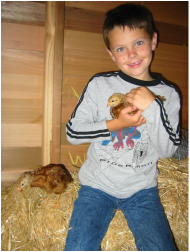 You can never say enough about a great egg layer, but a full size hen than the kids can pickup without fear and roost on their arm? Such sweet friendly birds that I can't imagine our flock without them. All Rhodes have all been named Betty after our original girl we bought some 10+ years ago. Hmm, they all used to be betty, but Jessica has named one of our new girls "Sir Peckus" pretty good name for a hen?
---
Americana & Cackle Hatchery Easter Egg Layers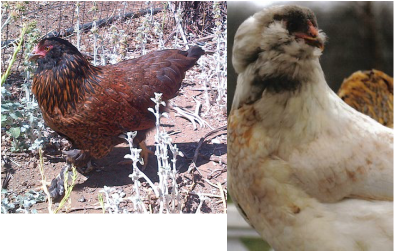 Dr Suess told us all we will like green eggs and ham and my kids are constantly telling me I need to make some!
A beautiful girl who surprsies you with her eggs on a daily basis giving our rhodes a run for their money. Many of current girls are Americana X Cochin Bantam, but I picked up some fresh full sized "Easter Egg" layers from Cackle hatchery.

The true pure Ameraucana chicken has a tail, full beard and comes in pure color types. The Easter Egg Chickens are different because they have a full beard under the beak rather than a tuft and have a tail rather than rumpless and do NOT have pure color types. Cackle Hatchery® breeding program objectives for the "Easter Egg Chickens" are to produce chickens with a wide variety of feather colors, feather color patterns, feather combinations of colors with a full beard under the beak and high egg production of colorful egg shells. The color of their egg shells vary from pale blue chicken eggs to dark blue to various shades of green and a few light brownish/pink eggs.
---
Copper Maran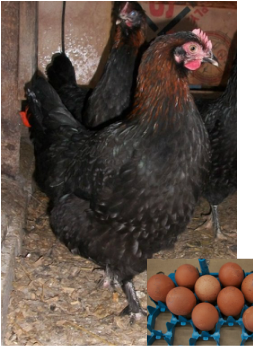 I have one lonely girl I hatched from Slate Creek fertile eggs, she is laying chocolate eggs, unfortunately not fertile as I would love to have more like her. She generously hatched a cute cochin bantam yesterday :)
---
Welsummer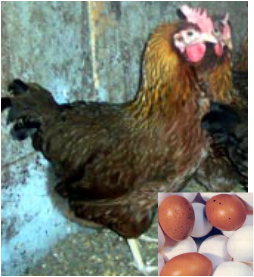 Ok, what am I doing? Love Apply Farm (my absolute favorite place to go for classes on gardening and food preservation) likes Welsummer so when I was looking for chocolate eggs on the cackle hatchery site and saw this one I figured why not?
---
Cuckoo Maran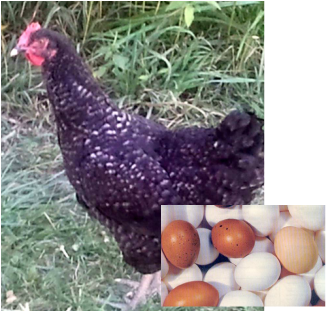 Copper marans are so hard to find I figured I would try some Cuckoo. They look a lot like Henrietta. We will see how their dispositon is later this year.
---
Barred Rock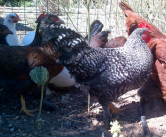 Our current Barred are hatched from our last batch of eggs before the neighbors dog cleaned house. These are half Barred X with Cochin Bantam so we have the special treat of the feathered feet with their full size. All Barred on our Farm are named Henrietta :).
All of our Henrietta's have been picked off. We will need to get some new ones next year..
---